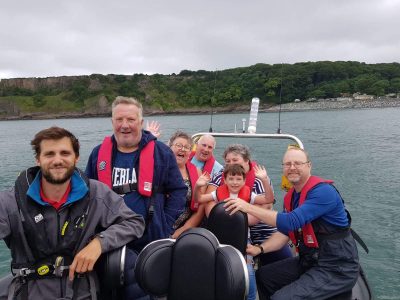 Get seabound this summer courtesy of the Lydstep Beach marine team
We're delighted to announce that 2019 marks the beginning of a new chapter for Celtic Haven, with the team officially joining forces with its colleagues down at our sister resort Lydstep Beach Holiday Park to add some exciting new activities to complement our wonderful array of onsite facilities this season!
As of this April, guests at Celtic Haven Resort will have access to Lydstep Beach Holiday Park's fantastic marine services - enabling you to explore the wonders of the Pembrokeshire Coastline and the Atlantic under the expert guidance of their experienced marine team.
Service
The park's marine services have something for everyone. Whether it's paddleboards for hire or a seal safari around beautiful Caldey Island, you're sure to enjoy hours of water-based fun this summer.
Check out their wide-ranging services here!
Get out on the sea with equipment for hire
Paddleboard Hire £20.00 / hour
Kayak Hire £20.00 / hour
Paddleboarding is a challenging but rewarding way to explore the sea's diverse offerings whilst testing your balance and core strength!
With Lydstep Haven's sheltered bay offering a tranquil environment on most days, it's the perfect location for seasoned boarders to have a relaxed paddle about the sea or for novices to get to grips with this wonderful water sport - all are welcome to try it out.
Who knows, an afternoon's board hire could mark the beginning of a lifelong boarding love affair!
The marine facilities also provides a number of kayaks that are available for hire, a perfect alternative for those amongst us that might prefer the security of seated adventure.
Get up close and personal with the alcoves diverse sea life… safe in the knowledge that you're less likely to make an unscheduled visit to the turquoise waters alongside them.